Make some awesome paint effects on your walls by learning how to paint clouds with a sponge, paint brushes and milk paint. With the cooler weather kicking in I have been neglecting my blogging duties and painting an accent wall instead!
Yes, I've been painting the rest of the house. It really needed it as you can see from that wall below. Today I have a special project for you. I am going to show you how to paint clouds with a sponge and make your accent wall look awesome!
I know the word "awesome" is overused but in this case I think it is a perfect description for my living room wall.
Disclosure: I was compensated for doing this post with product. However, all the opinions stated here are my own. I only use products I love and would recommend to my viewers.
I have a rectangular living room that is opened on one side. This is the one that faces the sofa. I was going to paint the whole thing white but then I saw this post from Pat of The Wood Spa and was seriously smitten! She also has a video showing us how to make this masterpiece.
I was so inspired I started right away without a moments hesitation. But the kicker here is that instead of using regular paint I used Old Fashioned Milk Paint, the Safepaint version which is specifically designed for walls. I honestly had no idea what would happen but I was feeling adventurous! Going out of my comfort zone here folks!
Disclosure: This post contains affiliate links for your shopping convenience. If you purchase any of these products through the links, we receive a small commission at no extra charge to you. You can find our full disclosure here.
Materials Used to Paint A Cloudy Accent Wall
Old Fashioned Milk Paint Safepaint Version in Slate
Old Fashioned Milk Paint Safepaint Version in Snow White
Old Fashioned Milk Paint Safepaint Version in Pitch Black
Lots of plastic containers
Below you can see the first coat. It looked good but there was not enough coverage which I expected. The color you see is Old Fashioned Milk Paint in Slate. I've also used this color when I painted the top of my vintage TV cabinet.
How-To Paint Clouds with a Sponge
Milk Paint comes in powder form and is mixed in with equal parts water. I usually mix it in jars and shake it well but you can also use a paint mixer. Once that is done you have to let it rest for about 15 minutes until the paint becomes frothy.
Mix only as much as you think you will need otherwise it will go bad after a few days. I usually keep it in the fridge where it lasts for a week. The powder form can be stored in a jar in a cool dry place indefinitely.
Once I had finished with the first coat it was time to start adding the cloudy effect that I love so much. In order to achieve this I had to mix up two batches of blue.
​The darker was achieved by adding a bit of pitch black to the original slate color, and the lighter by adding the snow white color to the original slate. Here are my yogurt containers with two different shades of the blue.
At this point I panicked (being truthful here folks) and consulted with one of my blogger friends Thea of That Sweet Tea Life, who has also done a similar wall with a beautiful cloudy effect.
Then it was back to work! I mentally divided the wall into horizontal sections of four. Within each section I would paint a swatch of the darker color about two feet in height and length. This is the darker shade.
Then I'd add a bit of the lighter color on top.
​Using a dry brush, I went over the area smoothing out the paint so it blended in.
This is very fast work that's why you have to work in sections. ​ If the paint dries then go back over it with a slightly wet sponge that will help to blend in the two colors.
​Here is how mine looked on one section.
And so it went as I worked my way across the wall and eventually up. Once I got to the top I realized that it was too dark and moody.
So I mixed another color that was between the light and dark and used that as the base coat and then applied the darker and lighter shades to create a variation.
Of course once I was done I had to go back for touch ups or to change some cloud shapes that did not look cloudy at all. After all, I didn't want obscene shapes on our living room walls!
There is no science to this, just use your imagination and go with what looks right to you.
​The whole thing took me two days to do. The first day for the base coat which I let dry overnight. Milk Paint dries very fast and is environmentally friendly with no odor! Yay!!
And the second day was for the actual cloud effect.
Just imagine me perched up on a ladder trying to juggle three containers of paint with three brushes in them and a dry brush on top of all of that! It was quite comical and frustrating at times. Even my dog was well behaved and stayed out of my way.
​But even with all of that I am over the moon happy with how it turned out. The room now looks twice as big, which makes no sense at all to me considering that this is a dark color. But I am really loving the drama of this wall. The milk paint is a beautiful hue and is so easy to work with, it went on easily and covered very well. And if I made a few mistakes it was no problem to paint over them. The color is actually a bit more blue than what the photos show.
Oh and did I mention that it is awesome!? Did you see how easy it was to paint clouds with a sponge and milk paint?
Now I need some help. I have these upcycled bookcases in front of the wall and my question to you is: should I leave the birch wrapping paper as a background?
Or remove them for a cleaner look? Let me know in the comments below.
One last look with all the furniture in front!
It was a lot of work, in fact I am still sore as I type this, but so so worth it.
If you enjoyed this you might also like a peek at my girl's ombre wall.
I think it is definitely worth going out of your comfort zone once in a while. I hope you enjoyed my tutorial on how to paint clouds with a sponge, milk paint and paint brushes. Would you ever try something like this?
And don't forget to check out Old Fashioned Milk Paint, it will surely change your life and your ideas on how to paint.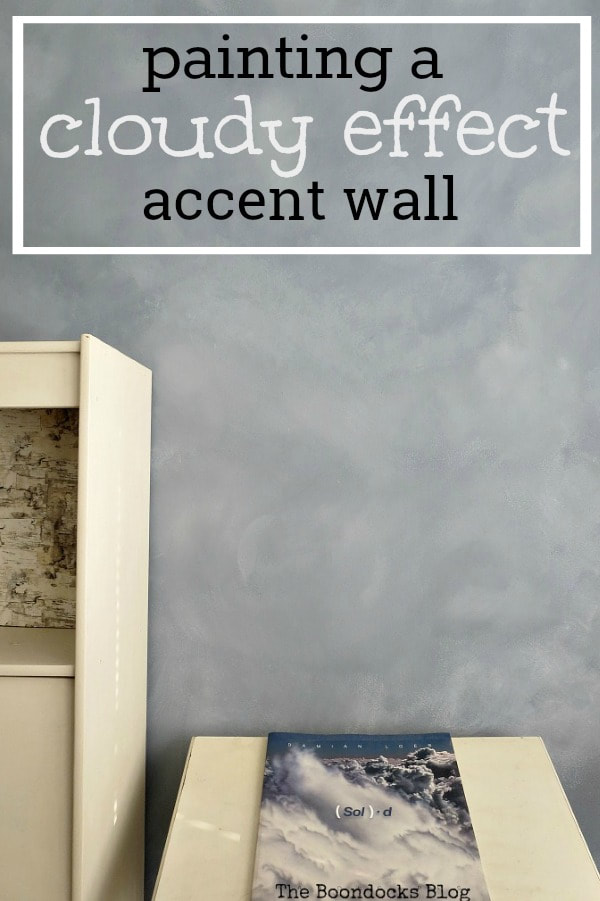 More Ideas Using Milk Paint: