I love painting furniture, I think it is one of the fastest ways to change or upcycle an old piece, plus you can mask any imperfections using paint. Most of the time I like to use beeswax on my furniture as a sealant. In fact I like it so much I make my own. Making your own beeswax furniture polish is easier than you think!
When I started the blog I knew nothing about any of this painting and furniture stuff. I found out that to seal in chalk paint I would need a sealant. Beeswax was the most common. Now many of you know I live in the boondocks and we don't even have chalk paint here.
​So when I had gone up to the big city I priced wax furniture polish. It was about 12 Euros for 500 grams (that would be about $15). This was way over my budget at the time because I didn't know how to use it, I certainly wasn't going to spend that much. So I came up with a cheaper solution, I decided to make my own. I found a recipe on the internet and proceeded. Forgive me if I do not remember where I got it from. The cost ended up being half of that for almost twice the wax.
2 Ingredients Needed for the Beeswax Furniture Polish:
Disclosure: This post contains affiliate links for your shopping convenience. If you purchase any of these products through the links, we receive a small commission at no extra charge to you. You can find our full disclosure here.
One part beeswax
Two parts olive oil
​
I like to use olive oil from my farm but you can also use Extra Virgin Olive Oil. You can even substitute mineral oil.
How to Make Beeswax Furniture Polish
Place the beeswax in a pot and let it melt under warm medium heat. You can also use a double boiler.
Keep on adding the wax till it all melts.
Add the oil of your choice. Stir it well and then remove from the heat. At this point you can also add any essential oils that you want.
Carefully pour it into a jar or container of your choice. Be careful because it will be very hot.
You can see the spilled wax dries instantaneously. The jar takes longer to solidify, about half an hour.
And that is it. You now have a jar of homemade beeswax furniture polish!
How to Use Beeswax Furniture Polish
Using a clean cotton cloth take a bit of the wax and rub it into the wood.
Below you can see that the right hand side has been waxed while the left has not.
After a few minutes rub the excess wax off. Keep rubbing till you get a nice sheen. It is also very good for your hands since it is made of natural ingredients so don't worry if you get some on your skin.
There is nothing like it for a soft, buttery smooth finish. The only drawback is that it needs to be reapplied once a year. And it should not be used on high traffic items, such as your kitchen table.
The first project I ever used it on was my table made from a stool and drawer. And this ancient tray which was painted in black.
​
I've even used it on metal painted with chalk paint in this vintage suitcase makeover.
It goes without saying that you can also use it on unpainted wood. But it is especially good for chalk painted wood because it seals in the chalk paint.
Not only is this good for your pocketbook and for your skin, but it is also green and good for our earth. I can't see any reasons not to try this great recipe for making your own beeswax furniture polish.
Give it a try and let me know what you think, and if you've already tried tell me what your recipe is.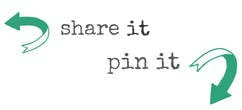 << Sweet Inspiration Link Party #69 HOME Kefalonia in Brown >>