A week ago I showed you how to make a pillow using a fringed fleece scarf. But I've also made them with old sweaters. Today I'm going to show you an easy way to make sweater pillows, because who doesn't love easy! The best part is you use up the whole sweater – zero waste, here we come!
Turning Sweaters into Throw Pillows
Let's just start by saying I have a lot of sweaters to work with! If you don't have them, ask family and friends if they have any they're ready to let go of. Or check your local thrift store – they'll have lots of different types and patterns to choose from!
Here's what I started with, an old patterned sweater with sleeves and a turtle neck and a sweater vest. As you'll see, any sweater shape will do!
Supplies Needed to Make Sweater Pillows
Disclosure: This post contains affiliate links for your shopping convenience. If you purchase any of these products through the links, we receive a small commission at no extra charge to you. You can find our full disclosure here.
old sweater ready to be upcycled
scissors
needle and thread in coordinating color
another piece of soft clothing for the stuffing (or cotton/polyester batting)
How to Make a Throw Pillow Cover from Sweaters
Let's start with the vest. All it needs is a running stitch going across, just under the arm openings. Then it is flipped over and stuffed and sewn shut. You don't need to cut it at all.
And here is my white sweater pillow next to the fleece scarf pillow… yes I had a lot of sweater vests.
Now let's look at that other larger sweater with sleeves and see how I made that sweater pillow.
I turned it inside out and sewed it across about two-thirds of the way down. If you want a more "square" pillow, rather than the rectangular style I made, simple sew farther down, even at the hem of the sweater.
Fold the sleeves inward…
…and the cowl/neck towards the body.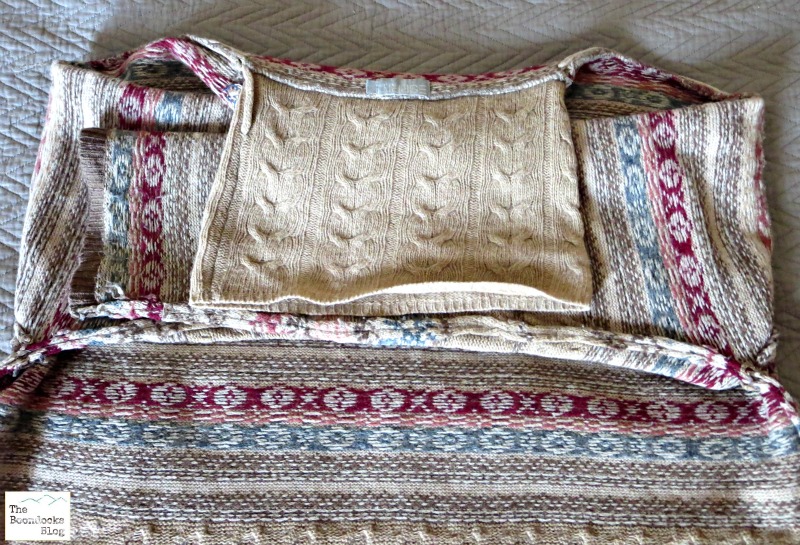 At this point I wanted the pillow to look bunched together on the sides so I used a gathering stitch. Just do a regular stitch and pull tight.
Here you can see the gathered ends more clearly. I added an old soft scarf inside for filling and then folded it on top of the scarf. No need to buy extra stuffing or batting! Simply use another piece of clothes if you don't have a scarf.​
I took the gathered bottom part and folded the rest into it. It's not hard, just think in terms of thirds. ​
Once all the inner stuffing is inside the pocket simply sew it shut. You can see that nothing was cut or thrown out. I used everything.
Here is the pretty gathered end. I wanted the look of a roll pillow. It reminds me of these no-sew candy throw pillows over at Sustain My Craft Habit.
I used the same approach to make this sweater pillow from a buttoned sweater with a hounds tooth embellishment. I did exactly the same way as the vest but just fastened the buttons closed first. ​
What do you think of my no-cutting, easy-peasy sweater pillows?
I don't think this pillow will fit in my upcycled basket, but that's alright! If I can repurpose something old and give it a new life I'm more than happy!​
This concludes my project on making sweater pillows the easy way, because why make it difficult when you don't have to? And with this post I think we are done with winter things. Winter begone!!