Have an old laminate table that has seen better days? Save money by giving it a makeover with paint and gel stain.
Upcycling a Beat Up Laminate Table
Once upon a time there was an old laminate table. It folded out into a bigger table. But the table, nice as it was had seen better days. It was old and chipped and the sides were worn. It was time to throw it out! Oh wait, I'm a DIY blogger! I can do this!! Or at least I can try!! Cause I really don't know much more than you do.
If you have an old piece of furniture don't despair! I try to make lots of mistakes on my blog so you won't have to… gotta love that! Today I managed to make very few mistakes! "wink"
But enough with the exclamation points, it's time to roll up our sleeves and show you how to save this old laminate table with gel stain!
What I Used:
Disclosure: This post contains affiliate links for your shopping convenience. If you purchase any of these products through the links, we receive a small commission at no extra charge to you. You can find our full disclosure here.
​putty for filling in table
As you can see by the above photo, the table has a top piece and underneath there are two leaves which open up to make it even bigger. It was in pitiful shape when I decided to tackle it. ​
The How To:
Before I started the first thing I did was to give it a soft sanding. Nothing too harsh to wear myself out, just here and there where the old varnish was hanging out in clumps and drips.
​I took out my trusty Americana Chalky Finish Paint and applied 3 coats to the bottom half of the table and the legs, and one for the tops.
I did not worry too much about the top because I used the chalky finish paint more as a primer. You see that here I have painted the top against the grain.
The top part of the table was painted in the other direction. Meaning along the width. And I also had a repair to deal with.
I used some putty and stuck it to the end and then painted over it. So far it seems to be fine. I'm sure there must be a better way of fixing it but I was in a big rush.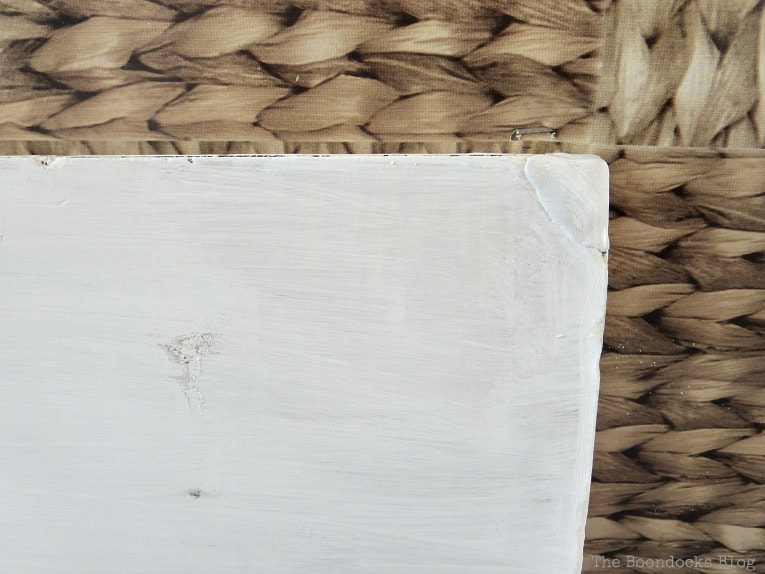 See, you can hardly tell. ​
Next I took a round brush and quickly worked the gel stain across the leaves of the table. Because the undercoat of the chalky finish paint was done in the opposite direction I ended up with lots of texture. This was done intentionally… awww, who am I kidding! I had no idea what I was doing, but the truth is I loved this happy accident of mine.
This little bottle went a long way! It's from DecoArt Americana line. This is a Gel Stain in Walnut and it is thicker than regular stain and also dries super fast. I just worked it back and forth as quickly as I could and did not worry about the overlap of the stained areas. It's supposed to be an old table and it should look uneven.
Here are the two leaves. Now remember, the bottom brushstroke is opposite to the top brushstroke. That's why I got all that variation and depth of the stain.
The top of the table was done in the opposite way. The chalky finish was painted width wise, and the gel stain was also painted in the same direction, across. So I did not get as much of a heavy stain look.
I painted the edges with the stain to match. Nothing fancy here, just dabbled the stain on.
And I finished it off with a can of spray varnish. I used a brand from the Lidl Supermarket. I actually sprayed it for two days taking my time to make sure that I had lots of thin even layers because this table is a work horse. It needed to stand up. ​
After letting it cure for a week, it was done and I was able to use it.
​It has a rough, worn look to it which I love.
And that walnut against the crispy white is such a great combination.
Do you remember what it looked like before?
Now you see why even if you are not sure of your talents it is always a good idea to go ahead and try. After all, as in my case, the finished table is so much better than the before. I never would have known what I'm capable of unless I tried.
This table was eventually put in the small bedroom, where I also updated an old bed frame. It is part of the small apartment series. I'll be sharing the completed room soon. ​
I hope that after reading my post you will not hesitate to try your hand at an old piece of furniture. In my case it was already pretty messed up so I couldn't mess it up any further. But I'm prone to experimenting a bit so you never know which direction my projects will go in.
​This is an easy way to save an old laminate table with stain gel and give it a second life in the process. Have you ever used stain gel? What did you think?