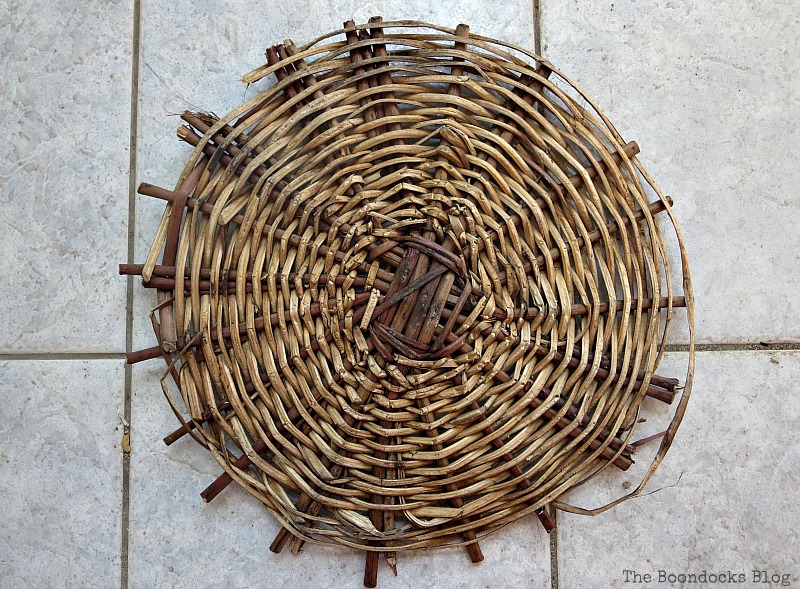 Do you all know what it is? It's the bottom of an old basket. Yes, the bottom fell out of the basket.
Μήπως γνωρίζετε τι είναι; Είναι το κάτω μέρος ενός παλιού καλαθιού. Ναι, το πάτος έπεσε από το καλάθι.
​
Initially I was going to burn it in the fireplace but I liked the pattern so I kept it thinking I would do something… anything but let it burn.
Αρχικά ήθελα να το κάψω στο τζάκι, αλλά μου άρεσε το σχέδιο γι 'αυτό σκεφτόμουν θα να κάνω κάτι … οτιδήποτε!
​
I went to my trusty paint stash and selectively added some white. ​
Έψαξα τις μπογιές μου και βρηκα λευκό χρώμα.
​
I had recently bought a whole big roll of burlap ribbon and was itching to use it somewhere. This was my chance!
Είχα πρόσφατα αγοράσει ένα ολόκληρο μεγάλο ρολό λινάτσα και ήθελα να το χρησιμοποιήσω κάπου. Αυτή ήταν η ευκαιρία μου!
​
I folded it in two and threaded it around the edge of the circle, like this.
Το δίπλωσα στα δύο και το πέρασα γύρω από την άκρη του κύκλου, έτσι.
​
And then in the other direction. This would keep the twigs from coming apart and hold the whole piece together… and it looks kinda pretty!
Και στη συνέχεια προς την άλλη κατεύθυνση. Αυτό θα κρατήσει τα κλαδιά στη θέση τους … και φαίνεται κάπως όμορφο!
​
I then threaded some yellow yarn through the twigs and the burlap that way it will stay put! And it also gave it some much needed color.
Στη συνέχεια πέρασα κίτρινο νήμα μέσα από τα κλαδιά και τον λινάτσα, με αυτόν τον τρόπο θα μένουν στη θέση τους! Και του έδωσε επίσης χρώμα.
​
I tied the ends on the bottom and artfully arranged the yarn!
​Έδεσα τις άκρες από κάτω.
​
The last step was to add something special to the center. Since I had that great big roll of burlap I tried to create some burlap rosettes… this was an epic fail. I'm not going to show you how I made them. Instead you can go to
You Tube and learn from the experts
of which I am not! And the proof is here!
Το τελευταίο βήμα ήταν να προσθέσω κάτι το ιδιαίτερο προς το κέντρο. Επειδή είχα το μεγάλο ρολό λινάτσα προσπάθησα να δημιουργήσει λουλουδάκια … αυτό ήταν μια επική αποτυχία. Δεν πρόκειται να σας δείξω πώς να τα φτιάξετε. Αντί 'αυτο, μπορείτε να πάτε στο You Tube και να μάθετε από τους ειδικούς από τις οποίες δεν είμαι! Και η απόδειξη είναι εδώ!
​
On this one I just threaded yellow yarn in the flower.
Σε αυτό απλός έβαλα κίτρινο νήμα στο λουλούδι.
​
Here I attempted to get fancy and did the rosette with the burlap and a white and gold ribbon… because I'm so good I can afford to get fancy…lol!
Εδώ έχω προσπαθήσει να το κάνω φανταχτερό και έκανε τη ροζέτα με τη λινάτσα και μια λευκόχρυση κορδέλα. Λες και ξέρω τι κάνω!
​
I tried to glue all these flowers to the basket bottom, which should not be called that anymore. It has been upgraded and is now … a crafty bottom! Not having the patience to wait for the glue to dry so I used some wire and attached them to the back.
Προσπάθησα να κολλήσω τα λουλούδια στο κάτω μέρος του καλαθιού, το οποίο δεν θα πρέπει να ονομάζεται έτσι πια. Έχει αναβαθμιστεί και τώρα είναι … ένας χειροτεχνικός πάτος! Δεν είχα την υπομονή να περιμένω για την κόλλα να στεγνώσει. Χρησιμοποίησα λίγο σύρμα και τα έπιασα στο πίσω μέρος.
​
​Disclosure:
The items below are affiliate links and link to Amazon.com. If you purchase any of these products through the links, I receive a small commission, that way I can continue to provide you with lovely content. There is no extra charge to you for purchasing through my affiliate links.
And there it is – my crafty Bottom. I don't really know what you would call it. A wall hanging? I certainly would not go so far as to call it art…lol. All I know is that I saved that poor bottom and turned it into something pretty. I do believe this is the junkiest piece I've ever repurposed. What have you repurposed that you had considered to be junk?
Και να το – ένας χειροτεχνικός πάτος! Πραγματικά, δεν ξέρω τι να το ονομάσω. Κρέμασμα στον τοίχο; Σίγουρα δεν μπορω να το πω τέχνη. Το μόνο που ξέρω είναι ότι έχω σώσει αυτό το πάτος και το μετέτρεψα σε κάτι όμορφο. Πιστεύω ότι αυτό είναι το πιο άχρηστο κομμάτι που έχω επαναπροσδιορίσει ποτέ. Εσείς τι άχρηστα έχετε επαναπροσδιορίσει;
​
​If you like what you see, share it with your friends, or save it on Pinterest. If you really like what you see subscribe to my blog and get my adventures twice a week in your mailbox.
Αν σας αρέσει αυτό που βλέπετε, να το μοιραστείτε με τους φίλους σας, ή να το αποθηκεύσετε στο Pinterest. Επισεις μπορείτε να εγγραφείτε στο blog μου και να λαμβάνετε τις περιπέτειες μου δύο φορές την εβδομάδα στο e-mail σας.
You may also like:
Επίσης θα σας αρέσει:
<<
I'm On the Top of the World
HOME
Sweet Inspiration Link Party #2
>>
​​
This blog is for entertainment purposes only; my DIY tutorials are not professional advice. Read my full disclaimer
here
.
​
I love it when I get your comments and I will reply to each and every one of them. ​
Μ 'αρέσει όταν παίρνω τα σχόλιά σας και θα απαντήσω σε καθένα από αυτά.