Wicker weave, even when old has just such beautiful texture and dimension that it's great to hold on to whenever possible. See how you can create a beautiful shabby chic wicker basket upcycle with just a few materials!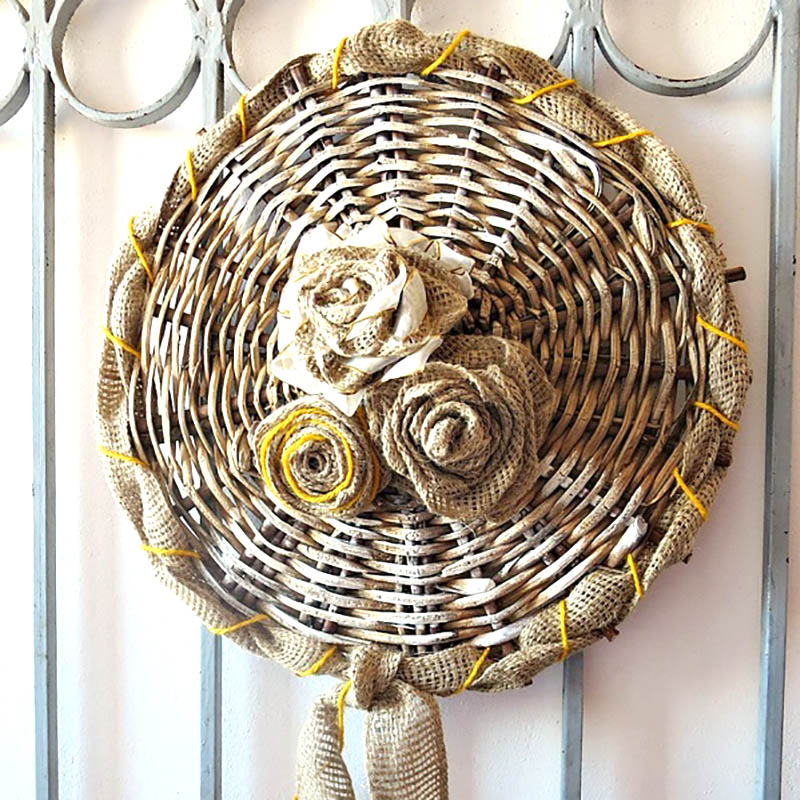 DIY Wicker Basket Upcycle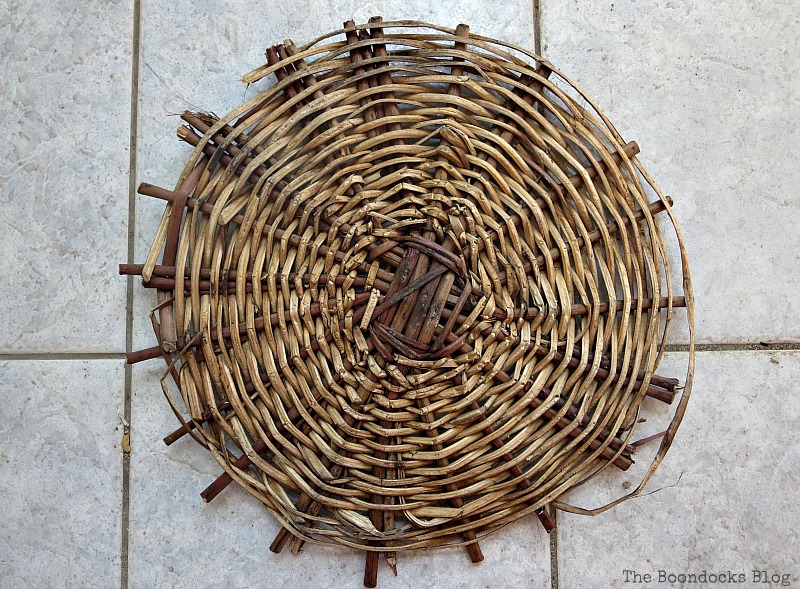 Do you all know what it is? It's the bottom of an old basket. Yes, the bottom fell out of the basket.
Initially I was going to burn it in the fireplace but I liked the pattern so I kept it thinking I would do something… anything but let it burn.
I went to my trusty paint stash and selectively added some white. ​
I had recently bought a whole big roll of burlap ribbon and was itching to use it somewhere. This was my chance!
I folded it in two and threaded it around the edge of the circle, like this.
​
I then threaded some yellow yarn through the twigs and the burlap that way it will stay put! And it also gave it some much needed color.
I tied the ends on the bottom and artfully arranged the yarn!
The last step was to add something special to the center. Since I had that great big roll of burlap I tried to create some burlap rosettes… this was an epic fail. I'm not going to show you how I made them. Instead you can go to You Tube and learn from the experts of which I am not! And the proof is here!
On this one I just threaded yellow yarn in the flower.
Here I attempted to get fancy and did the rosette with the burlap and a white and gold ribbon… because I'm so good I can afford to get fancy…lol!​
I tried to glue all these flowers to the basket bottom, which should not be called that anymore. It has been upgraded and is now … a crafty bottom! Not having the patience to wait for the glue to dry so I used some wire and attached them to the back.
And there it is – my crafty Bottom. I don't really know what you would call it. A wall hanging? I certainly would not go so far as to call it art…lol. All I know is that I saved that poor bottom and turned it into something pretty. I do believe this is the junkiest piece I've ever repurposed. What have you repurposed that you had considered to be junk?
​If you like what you see, share it with your friends, or save it on Pinterest. If you really like what you see subscribe to my blog and get my adventures twice a week in your mailbox.