We are in the midst of Christmas Decorating in my house.  The tree is up, the boxes are everywhere and there is general chaos in the house.  But we're very happy!  I've enlisted my girls and their friend to help me with the decorations. Because otherwise, it will be New Years before I'm finished. Today I'm going to share my homemade ornaments that I made last year for the first time.  
Εχουμε αρχίσει τη Χριστουγεννιάτικη διακόσμηση στο σπίτι μου. Το δέντρο είναι πάνω, τα κουτιά είναι παντού και υπάρχει γενικό χάος στο σπίτι. Αλλά είμαστε πολύ χαρούμενοι! Έχω στρατολογήσει τα κορίτσια μου και μια φίλη τους για να με βοηθήσουν με τις διακοσμήσεις. Διότι διαφορετικά θα είναι Πρωτοχρονιά πριν τελειώσω. Σήμερα θα μοιραστώ τα σπιτικά στολίδια μου που έκανα πέρυσι για πρώτη φορά.
​
I begin by cutting out donut shaped cardboard figures. 
Ξεκινάω κόβοντας ένα χαρτόνι σε σχήμα δακτυλίου.
​
I then cut fabric into long strips and staple it onto the cardboard.
Μετά κόβω ύφασμα σε μακριές λωρίδες και το συρράπτω πάνω στο χαρτόνι.
​
The strip of fabric is then wrapped around the cardboard.
​
Η λωρίδα του υφάσματος τότε τυλίγεται γύρω από το χαρτόνι.
​
This is the basic ornament.  Now you can add onto it with whatever you have.  Here I chose to add some ribbon.
Αυτό είναι το βασικό στολίδι. Τώρα μπορείτε να προσθέσετε  ότι έχετε. Εδώ επέλεξα να προσθέσω μια κορδέλα.
​
I also had an old pearl set which was in bad shape so on to the ornament it went. 
Είχα ένα παλιό κολιέ που ήταν σε κακή κατάσταση, έτσι το έβαλα στο στολίδι.
​
Just add a ribbon to the top so you can hang it on the tree and you're done – homemade ornaments using what's found at home. 
Προσθέστε μια κορδέλα στην κορυφή, ώστε να μπορείτε να το κρεμάσετε στο δέντρο. Σπιτικά στολίδια   με ότι εχετε στα σπίτια σας.
​
The possibilities are endless. And they make perfect gifts!
​
Οι δυνατότητες είναι ατελείωτες. Και ειναι ιδανικά για δώρα!
​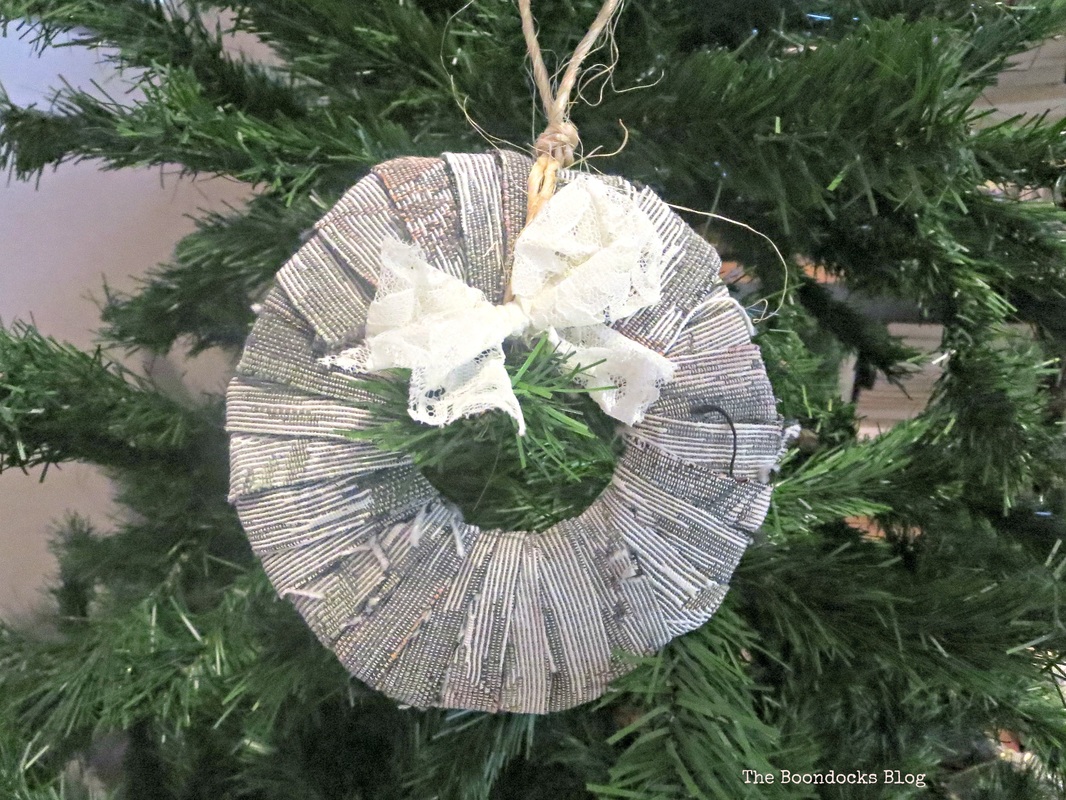 This last one is my favorite homemade ornament for Christmas. Now go look around your houses and tell me what you see that can be used for your homemade ornaments. 
Αυτό το τελευταίο είναι το αγαπημένο μου σπιτικό στολίδι για τα Χριστούγεννα. Τώρα  κοιτάξετε γύρω στα σπίτια σας και πείτε μου τι βλέπετε που μπορεί να χρησιμοποιηθεί για τα δικά σας σπιτικά στολίδια.
​
​
If you like what you see, share it with your friends, or save it on Pinterest. If you really like what you see subscribe to my blog and get my adventures twice a week in your mailbox.

Αν σας αρέσει αυτό που βλέπετε, να το μοιραστείτε με τους φίλους σας, ή να το αποθηκεύσετε στο Pinterest. Επισεις μπορείτε  να εγγραφείτε στο blog μου και να λαμβάνετε τις περιπέτειες  μου δύο φορές την εβδομάδα στο e-mail σας.