Adding beauty and decor to the holidays doesn't have to be expensive. See how easy it is to create pretty homemade Christmas ornaments for the tree using scrap materials such as ribbon, fabric and beads!
Adding a Homemade Touch to the Tree
We are in the midst of Christmas decorating in my house. My sparkling Christmas tree is up, the boxes are everywhere and there is general chaos in the house. But we're very happy!
I've enlisted my girls and their friend to help me with the decorations. Because otherwise, it will be New Years before I'm finished. Today I'm going to share my homemade Christmas ornaments that I made last year for the first time.
Materials Needed to Make these Simple Ornaments
cardboard
scizzors
cup, bowl (for tracing shapes)
stapler/hot glue gun
scrap fabric, ribbon, embellishments
How to Make Scrap Ribbon Ornaments
I begin by cutting out donut shaped cardboard figures.
I then cut fabric into long strips and staple it onto the cardboard.
The strip of fabric is then wrapped around the cardboard.
This is the basic ornament. Now you can add onto it with whatever you have. Here I chose to add some ribbon.
I also had an old pearl set which was in bad shape so on to the ornament it went.
Just add a ribbon to the top so you can hang it on the tree and you're done – homemade ornaments using what's found at home.
The possibilities are endless. And they make perfect gifts!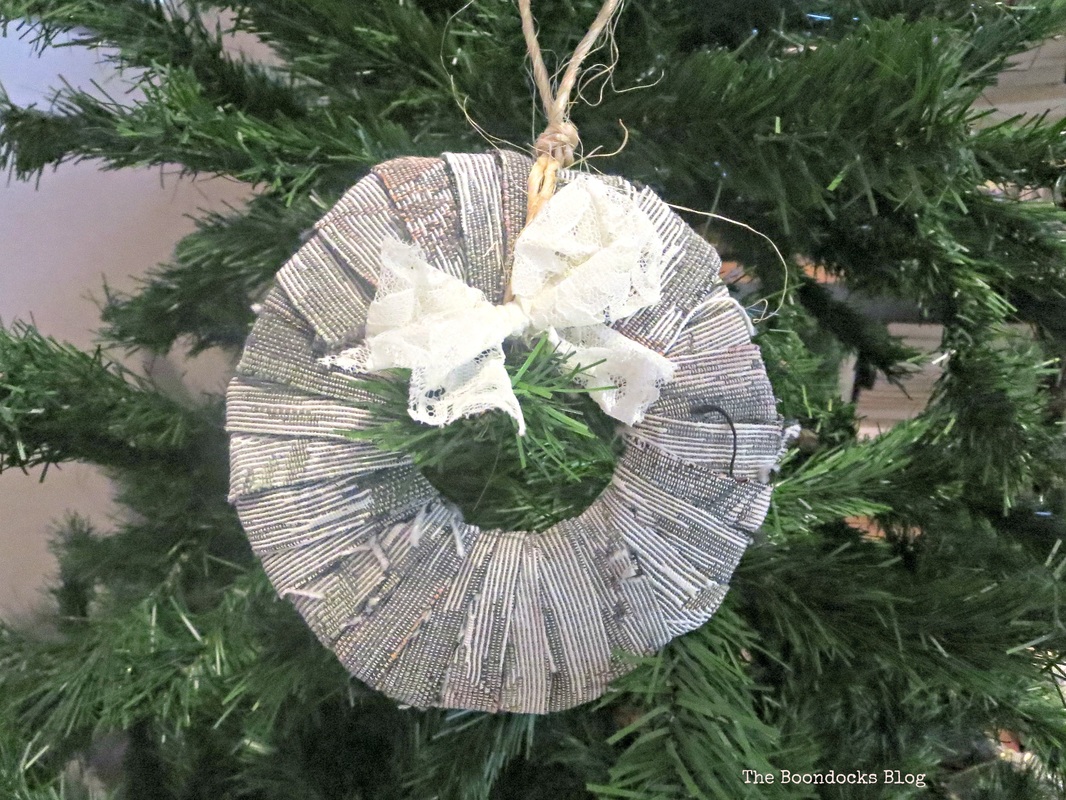 This last one is my favorite homemade Christmas ornament. The vintage fabric and modern beads make a lovely combination.
Now go look around your houses and tell me what you see that can be used for your homemade ornaments.
Need additional DIY ornament ideas?
Check out these handpainted canvas ornaments, macrame feather ornaments or Buffalo check jar lid ornaments.
Additional Christmas Decorating Ideas you Might Like