Create a unique art project for your home by making a DIY mobile hanger using metal wire hangers and leftover art materials from your home.
It is my favorite time of the month, the International Bloggers Club Challenge. We are a group of friends from all over the world who get together every month to share our projects and discuss how things are done in our countries. Last time we shared projects for gardening. And the month before it was projects with fabrics. To see what my friends have made this month scroll down to the bottom of this post.
This month we are going to work with wire. I always like a challenge and this one certainly had me in a whimsical kind of mood. I chose to make a unique art mobile with re-purposed wire clothes hangers.
I honestly had no idea what I was going to do for this challenge, till one day my son asked me to pickup his dry cleaning and that was when I spotted the white wire clothes hangers. I decided they would be my starting point for this project.
Disclosure: This post contains affiliate links for your shopping convenience. If you purchase any of these products through the links, we receive a small commission at no extra charge to you. You can find our full disclosure here.
What I Used to Make a Wire Hanger Mobile:
2 white wire metal clothing hangers
flowers and leaves
The How To Make a Wire Hanger Mobile:
I took the two metal wire hangers (I ended up not using the third one) and opened them up, then using the pliers, shaped them into these circles you see below. I also made sure to make one larger and one smaller than the wicker plate charger.
I then cut the twine into four long pieces and made loop holes for them for the top. I then passed the loops inside the hook of the hanger that had been cut off.
​I tied the twine onto four areas on the smaller wire circle. ​Further down I tied the twine onto four areas of the wicker plate charger, and finally again tied them onto the larger wire circle. So I would now have three tiers.
I left the remainder of the twine to hang and attached the old fashioned clothespins. You may recall I used these once before on a wreath project. I like the way they add a rustic feel to any project I'm working on.
​I then took thin pieces of twine and looped various large sized buttons through them. They were hung from the wicker plate charger like this.
At this point you may be wondering why I chose to use buttons when something else could have been so much prettier, and my answer is "it's all about the upcycling folks". I had just cleaned out my sewing box and had way too many buttons then a person has a right to have! It was time to use some of them up.
The next step was to add a ribbon all around the large wire circle. This serves two purposes. First, it adds interest, and secondly it keeps the buttons hanging from the thin twine in one place so they don't slide all over the place. No one wants sliding buttons!
​Finally on the top I took a flower and leaves, tied them together and hung this bouquet from the top of the mobile.
I worked primarily with two colors the black of the buttons and the gold or natural color of the twine and these buttons you see below. I think they have a rustic feel to them.
I even added a bit of blue, since I had them I might as well use 'em!
​Here is the ribbon which was loosely wrapped around the lower wire circle. The ends were allowed to hang down, like tendrils.
The bouquet was tied together with a ribbon and then hung from the top where the loops where attached to the hook.
​And here it is, my one of a kind mobile.
I even added a small wood star in the center just to spice things up a bit.
There are so many different elements in this wire hangers mobile, but I'd like to think they come together beautifully to form something unique.
One other challenge I placed on myself was to create this wire hanger mobile art without spending a dime! And I did manage to achieve this thanks to my fun journey into the sewing box.
​Go ahead, take a look at yours and see what you can up-cycle and re-purpose into art!
And when the sun shines on it, well that is the best part. The shadows get to play with the light in the room.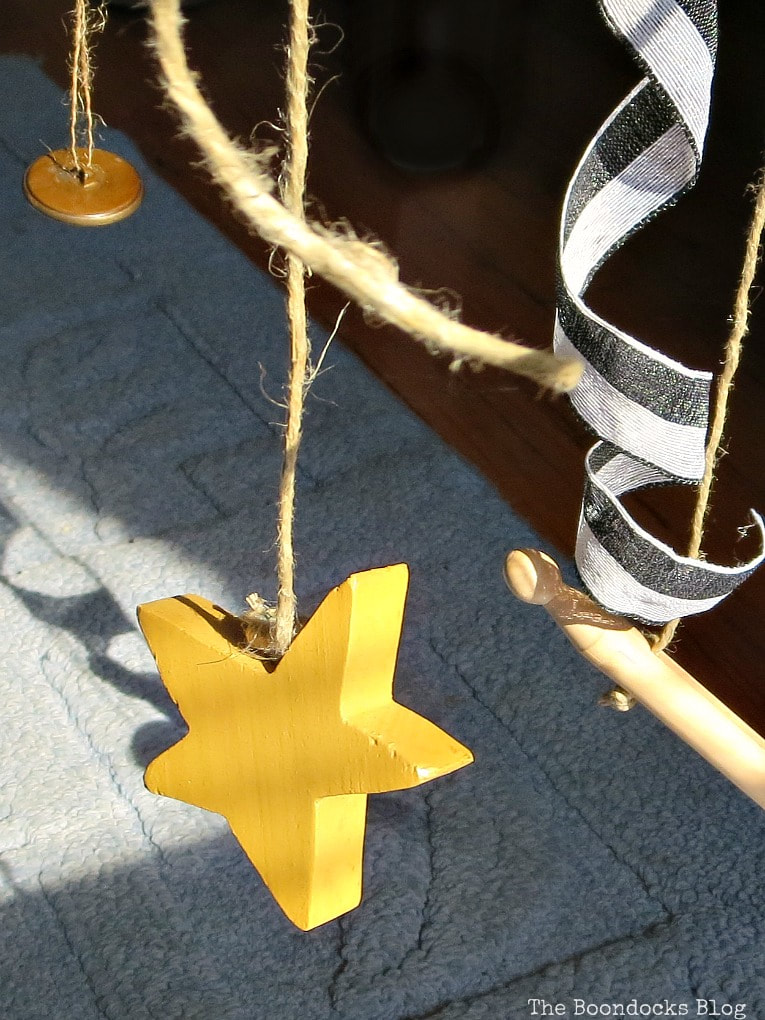 I am really enjoying these forays into projects with different materials with the International Bloggers Club. This certainly was a first for me, because I have never made mobile art before. It was fun and freeing especially since I was able to unload a lot of items that I do not really need. I hope you enjoyed my unique mobile art using wire hangers.
Have you ever made mobile art, and with what?
If you really like what you see subscribe to my blog and get my adventures in your mailbox. The form is on the sidebar and on top. To see my privacy policy click here.
More re-purposing projects:
Simple Lanterns with Repurposed Jars
Wind Chime from a Tire Rim
This blog is for entertainment purposes only; my DIY tutorials are not professional advice. Read my full disclaimer here.​