Sometimes in life you get what you wish for. I had wanted this vintage TV cabinet from the first time I laid my eyes on it. It was in rough shapre and full of dust but that did not deter me. What I thought would be an easy furniture makeover project turned out to be exactly the opposite. Read on and let me know – was the vintage TV console transformation worth the effort?
Bringing New Life to an old Wood TV Cabinet
This vintage TV console has to be from the 70's and once housed an actual television inside those ornate doors. Our neighbor had given it to my dad and he kept it in the foyer but I felt it had potential … I mean look at that scroll work. And so I wanted to revive this vintage TV cabinet.
I had wanted this cabinet for the longest time. Ever since I had spotted it outside in the main foyer of our house. But my dad, being settled in his ways would not hear of it. ​He is at an age where he hates to have his routine changed or things disturbed – that includes moving his furniture around. I begged and pleaded, and even offered to place another piece in the foyer because all he really used it for was to place the mail on.
I wanted to use it in the living room as a TV stand. You know what it was meant for, sort of. Up till this point I had used my dresser for the TV but I really wanted my dresser back. Finally about a few weeks after my pleading, he relented … but only because I didn't mention it again.
As you can see it was in pretty bad shape, and I thought I'd just give that cheap old cabinet a quick paint job.
What I Used:
Disclosure: This post contains affiliate links for your shopping convenience. If you purchase any of these products through the links, we receive a small commission at no extra charge to you. You can find our full disclosure here.
Old Fashioned Milk Paint in Snow White Safe Paint Version
Old Fashioned Milk Paint in Slate Safe Paint Version
Decorative Wax in White
​Rags for waxing
How To Paint a Vintage TV Cabinet:
There was lots of sanding involved, and indoors too. It was a frightful affair. But I had no choice, I had to finish this thing. You see, we were going to have a new addition to the family – my kids adopted a puppy for me – and it had to be finished asap!
So sand I did, and lots of it! I realized that what I had thought was a cheap plastic top turned out to be good quality wood!
I had to remove the varnish and stain to get to this.
​Not at all what I had been expecting. But it was a nice surprise!
At this point I have to tell you what my original vision was for this cabinet. I had wanted to paint the top silvery gray and the rest white. The scroll work would also have touches of silver. You can imagine my surprise when I saw this wood.​
​Not knowing what to do with the top, I instead proceeded to the sides. I had some leftover milk paint in Snow White from this project and used that…​
And I also used it here on the top.​
The next day – because this was a week-long project – I saw this on the side. "What's this?" I said to myself. Do you ever find yourself talking to yourself when working on projects or is it just me?
And then I remembered that the paint I had used was original milk paint. Not the other type that does not chip. Oh!!! I could have slapped myself silly at this point. I had been through this before a few months ago.​
I then remembered that I had recently gotten a new shipment of Milk Paint and ran like an eager toddler to grab that box and rip it open! There it was, my favorite paint!! The SafePaint version that does not chip. Because chippy is good but sometimes you don't want that much. If you are interested in purchasing this paint, make sure to go over to their website.​
​And as if the chippy wasn't enough of a problem I also had this going on! When I painted the edges it left these marks from the brush. It wasn't the paint's fault it's just that I had never painted furniture before where the brush stroke stopped abruptly like that.
Milk Paint can be tricky if you are not familiar with it. But lucky for me I have Facebook and that means groups with wonderful people that are out there to help and give advice at a moment's notice. I went to this one and this one and got loads of tips.
What I ended up doing was using a larger brush and also painting the layers, one vertical and one horizontal until I had it all covered up and nothing was showing.​
Then I had the scrolls to contend with. Oh boy can you see just how much fun I had with this cabinet. Why is it that when I see these projects on Pinterest I only see pretty pictures? How do they paint these things? With spray paint? I ended up putting on five to six coats of milk paint and then, still not being satisfied, I added a final coat of acrylic paint.
​​I have to be truthful, this is no fun at all! Oh and did I mention that all this scroll work is plastic?
After all those coats of paint, I dry brushed the scroll work with slate milk paint. It is a gorgeous bluish grey color.
​Below is the brush used for waxing the piece.
The wood top was done with two coats of snow white and then two more coats of this beautiful Slate color. I had thought it would turn into a smooth grey but instead it became this gorgeous soft blue which I like so much better.
So you see my plans were altered right there. It's not a problem since I'm introducing elements of blue into the living room.​
And wanting to add a little more depth I went over it with a white decorative wax, you can see a similar one to the one I used here.​
​I painted the inside of the doors and the speaker covers, slate as well. And the hinges were done in a metallic deep grey. It is here that you can see the beauty of Old Fashioned Milk Paint. When painted it takes on a life of its own and adds layers and different shades, almost like a soft cloud brushing the furniture.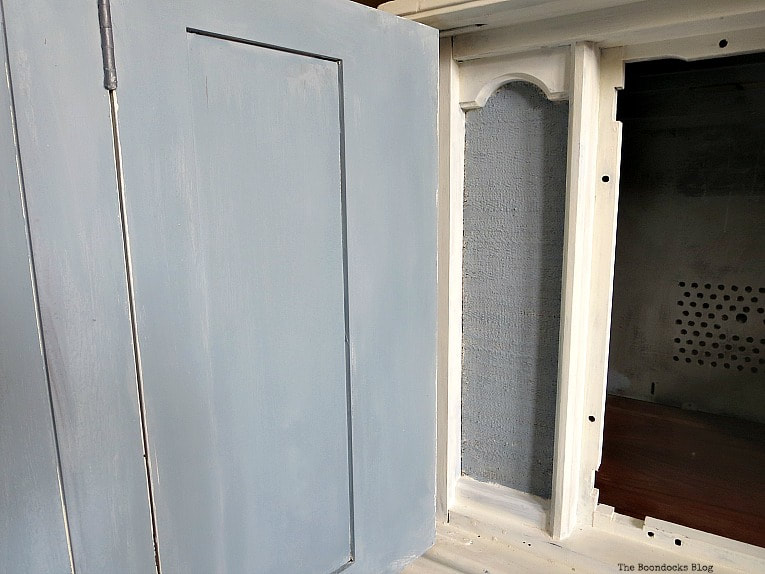 Now let's talk about the bottom of the vintage TV cabinet. One side, no matter how many times I painted it, would chip away. I don't know why maybe I needed to sand it better? But as I was working on the piece I came to appreciate the natural wear of this area.
Also a few days after I had started work on this TV console we got a puppy and he in his enthusiasm tried to nibble on the other side of the cabinet. So I suspect we may have a few more of these accidents in the future. I figure this is all a part of real life living. I ended up distressing a bit more and that was the end of that.​
​And here is the little culprit, eight-month old Tatou! Now how can you get mad at that face?
The hardware was painted with the slate milk paint, mixed in with a bit of metallic color. I then finished the whole thing off with some wax to protect it all.
​See what a warm, pretty color the top it. It turned out so much better than my original vision of the grey. ​
The scroll work was done with a light feathery touch to just add a bit of emphasis to the curves. ​
So now I have a whole lot more storage, which we can always use. And the best part? The living room looks like a new room now. Who would have thought one piece of furniture could make such a difference? Should I go out and buy new furniture so it can live up to the TV cabinet's standards? And what about Tatou? Will he destroy those too? So many questions…
Why, even my dad was impressed with the makeover and he said "It is very beautiful" which is super high praise coming from him. Remember, he didn't want to give it to me in the first place. ​
A quick look at the before so we can appreciate this transformation.​
Ahhh much better!​
Perseverance got me here, and also knowing when to keep my mouth shut so Dad would feel bad that he didn't give me that old vintage TV cabinet to make over right away!
But now that he sees what I'm capable of, maybe I can wrangle a few more pieces out of him. In all fairness, I don't think I'll be able to top this one. It's not every day you come across scroll work like that. And using Old Fashioned Milk Paint certainly made all the difference in the beauty of the color and in the details.
Have you ever tried Milk Paint? What are you waiting for?
​
​If you really like what you see subscribe to my blog and get my adventures in your mailbox. The form is on the sidebar and on top. Your e-mail will never be shared with a third party.
This blog is for entertainment purposes only; our DIY tutorials are not professional advice. Read my full disclaimer here.​
We love it when I get your comments and I will try to reply to every one of them. ​Please do not add a hyperlink to your comment, otherwise it cannot be published.