If you're looking for lamp painting ideas, check out this technique on how to make a lamp base look like stone. Give your old, ugly lamp a new and custom look.
There is nothing like the changing weather to get me motivated to paint everything in sight. And this lamp base was no exception.
I had saved it from the garage sale we had months ago but knew it would need a makeover if it was to stay in my house. I did not like that faux gold at all! Today I'm going to show you how to paint a lamp base to look like stone.
Disclosure: This post contains affiliate links for your shopping convenience. If you purchase any of these products through the links, we receive a small commission at no extra charge to you. You can find our full disclosure here.
Materials Used to Paint a Lamp Base:​
How To Paint a Lamp Base:
I started off by painting the lamp base with two coats of Decoart Americana Chalky Type Paint in Everlasting, which is white. This was to serve as my base color.
Then I mixed in a little bit of acrylic black into the white paint to get this grey you see below. I randomly brushed it on here and there.
You can see that a bit of the white had dripped and dried on the bottom. That was not a problem. Since I was trying to imitate stone it did not have to be perfect, like in this lamp project I did a while back.
Next, I then created a separate lighter shade of grey by adding more white to the mixture and went over the lamp with this color. I also had a black metallic color that I threw into the mix.
Of course it is much easier if you just buy the colors but I am on a quest to use up my paints so I like to mix them myself.
I continued on painting all around the lamp base with these three colors trying to create depth to the look. You can't really go wrong with this. There are no hard and fast rules.
​Towards the end, I used the dry brush technique. This basically means you put very little paint on the brush and before adding it to the lamp you dab off some of the paint on a paper towel or palette so as to just have a tiny bit of paint that goes onto your object.
It was a very sloppy process – intentionally to look like stone. I didn't even have to seal it in since the top layers were all acrylic craft paint.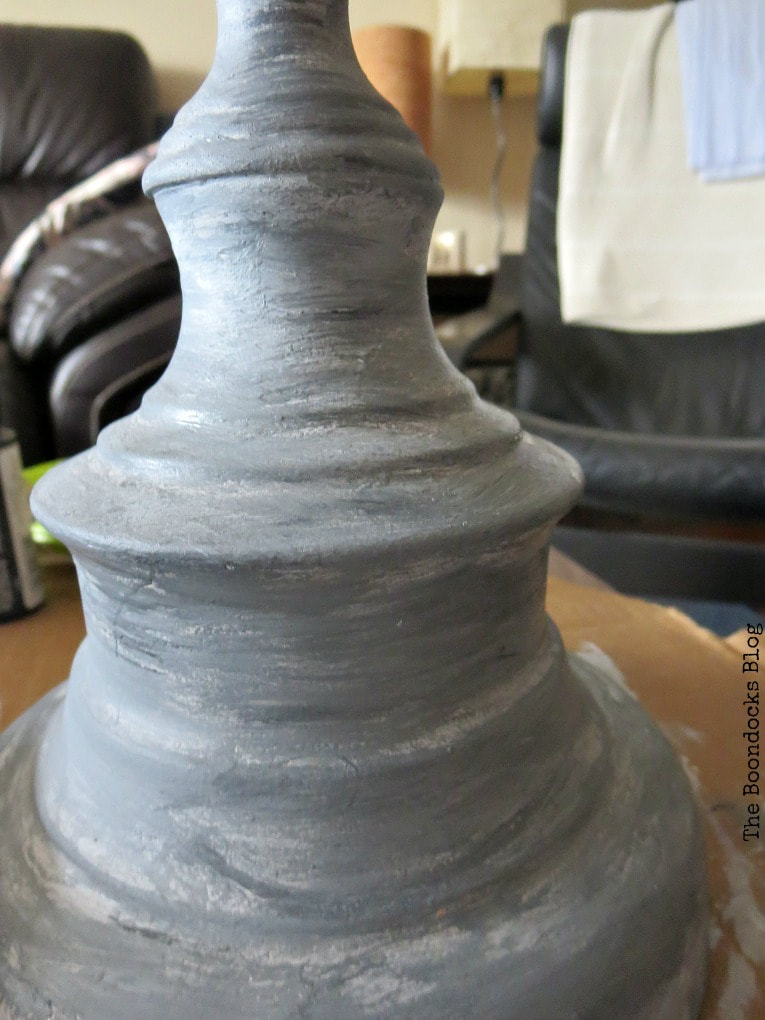 ​I took it inside my girls' room to photograph it because the lighting is better in there, but quickly realized they better not see it otherwise they'll want to keep it.
Now you tell me, doesn't that look like stone?
It's been moved to the living room where it fits in perfectly along with the freshly painted walls.
One last look at the lamp base before I painted so we can appreciate the difference.
I don't think it can get any easier than this, and let's be honest this is so much more interesting and fun than the gold it started out with. You can check out my framed leaves here.
This was such an easy project it only took half an hour. I hope you've enjoyed my tutorial on how to paint a metal lamp base to look like stone. Now I have a brand-new lamp. It may be faux stone but at least it looks better than that awful cheap gold from before.
Want additional lamp painting ideas?
Check out these two options from Sustain my Craft Habit:
Which do you prefer, the gold or the new stone look?
More Paint Ideas: