I restored an old and rusted vintage suitcase into a brand new looking piece of luggage. This makeover isn't too difficult and doesn't have to be perfect because the imperfections add to the vintage charm.
Guess where I found this old thing?
If you have been coming here at all for any length of time you will know it came from my basement. I am starting to believe that everything from the dreaded basement must be vintage. This old suitcase was in really bad shape. It had scratches all over and the metal framework holding it together was bent out of shape.
I certainly had a big job ahead of me. But if there is one thing I love, it's a good challenge. And so we begin with my vintage suitcase makeover.
Disclosure: This post contains affiliate links for your shopping convenience. If you purchase any of these products through the links, we receive a small commission at no extra charge to you. You can find our full disclosure here.
How to Paint a Vintage Suitcase
​I started with the sides and painted them using my favorite Enchanted by Americana Decor Chalky Finish Paint from DecoArt. It went on nice and smooth and I ended up using 2 coats. I created my own color because I'm a pain like that. I mixed in some white to the Enchanting to make a really soft olive color.
The next step was to take care of those awful looking corner bumps. I used DecoArt Metallic Lustre in Burnished Brass and rubbed them to a fine sheen. I think gold would have been too much in this case.
I used the same polish on the inner frame parts that close. In order to get straight lines, I pressed up a piece of cardboard on the edge and then just painted along.
The edge clamps were also treated in the same manner.
The outer framework was refreshed with a black acrylic color.
Now for this vintage suitcase, I had an old world look in mind. You've seen those old suitcases that had straps on them. Well, I wanted to create that look. I taped them off and painted them with my Enchanted color. Painting these straps gave me a backache. But one must suffer for one's suitcase.
I then had to go back and retouch up some areas. As one point, I remember taking a hammer to the areas of the frame that were bent out of shape. You can see below that it is still out of shape, but that is as good as it's gonna get. Anyway, I want you all to remember that it is a vintage piece. Can't make it too perfect or it'll lose its charm.
And here she is, my beauty!
Doesn't she look just spiffy?
I am really loving the contrast between the brass and the black frame.
I chose to leave the bottom blank. No point in breaking my back all over again.
At one point I had considered painting the straps all around the vintage suitcase but realized that the clasps were not symmetrical. They were placed at different dimensions away from the ends of the suitcase. Even the central edge clamp was off center. You can see it here where it is not centered with the handle, whereas the bottom clamp is.
By painting the stripes all around, I think it would have called more attention to the irregularities of the suitcase. ​
While working on this project I found a site on the internet, Brettuns Village, which restores trunks and old suitcases. It is very informative (that's how I learned the names of all these pieces) and it even has a page on how to restore your own vintage piece.
Of course, I'm not finished yet. I'll show you what's inside very soon.
​I really love the softness of the color, it makes the hardware look so clean and the brass stand out. I would definitely consider this vintage suitcase makeover a trash to treasure project. Do you think I chose the colors well? What about that brass? Do you have any old pieces like this?
And now for some rest…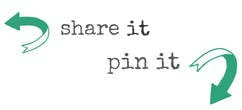 You may also like: