A week ago I showed you how to make a pillow using a
fringed scarf
. But I've also made them with old sweaters. Today I'm going to show you an easy way to make them, because who doesn't love easy! Here's what I started with, an old patterned sweater and a sweater vest.
Πριν από μία εβδομάδα σας έδειξα πώς να κάνετε ένα μαξιλάρι χρησιμοποιώντας ένα

κασκόλ με κρόσσια. Αλλά έχω φτιάξει μαξιλάρια με παλιά πουλόβερ. Σήμερα θα σας δείξω έναν εύκολο τρόπο για να τα κάνετε, γιατί ποιος δεν αγαπά εύκολο! Ξεκινάμε με ένα παλιό πουλόβερ με σχέδιο και ένα γιλέκο πουλόβερ.​
​
Let's start with the vest. All it needs is a running stitch going across. Then it is flipped over and stuffed and sewn shut. You don't need to cut it at all.
Ας ξεκινήσουμε με το γιλέκο. Το μόνο που χρειάζεται είναι μια ραφή κάτω από το λαιμό. Το γυρνάμε, το γεμίζουμε και το ράβουμε κλειστό. Δεν χρειάζεται να το κόψετε καθόλου.
​
And here is my white beauty next to the
fleece pillow
… yes I had a lot of sweater vests.
Και εδώ είναι η άσπρη ομορφιά μου δίπλα στο μαξιλάρι φλις … ναι, είχα πολλά γιλέκα πουλόβερ.
​
Now let's look at that other larger sweater and see how I made that one. I turned it inside out and sewed it across about two-thirds of the way down.
Τώρα, ας ρίξουμε μια ματιά σε αυτό το μεγαλύτερο πουλόβερ. Το γύρισα τα μέσα έξω και έκανα μια ραφή περίπου στα δύο-τρίτα κάτω.
​
Fold the sleeves inward…
​Διπλώστε τα μανίκια προς τα μέσα …
​
…and the cowl towards the body.
…και τον λαιμό προς το σώμα.
​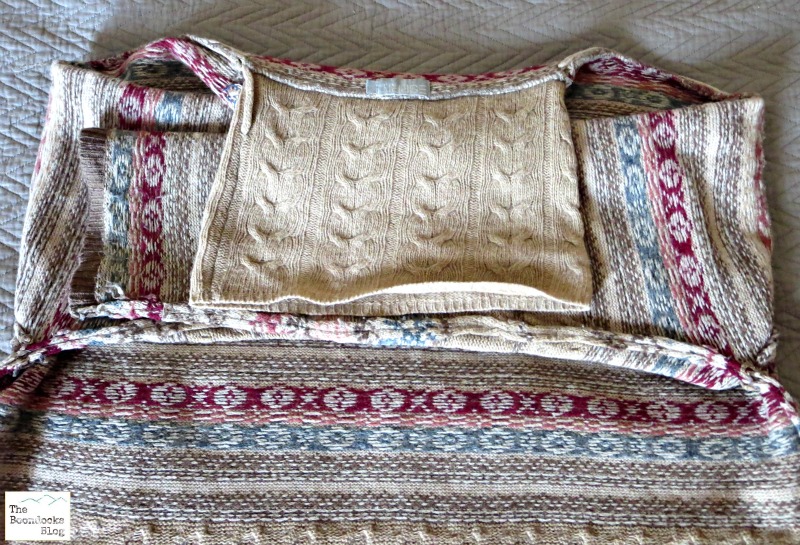 At this point I wanted the pillow to look bunched together on the sides so I used a gathering stitch. Just do a regular stitch and pull tight.
Σε αυτό το σημείο ήθελα το μαξιλάρι να συσσωρεύετε στις πλευρές. Κάνετε μια κανονική βελονιά και τραβήξτε σφιχτά.
​
Here you can see the gathered ends more clearly. I added an old soft scarf inside for filling and then folded it on top of the scarf.
Εδώ μπορείτε να δείτε τα άκρα με μεγαλύτερη σαφήνεια. Πρόσθεσα ένα παλιό μαλακό κασκόλ μέσα για γέμισμα και μετά το δίπλωσα πάνω από το κασκόλ.
​
I took the gathered bottom part and folded the rest into it. It's not hard, just think in terms of thirds.
​
Πήρα το συσσωρευμένο κάτω μέρος και δίπλωσα τα υπόλοιπα μεσα σε αυτό.
​
Once all the inner stuffing is inside the pocket simply sew it shut. You can see that nothing was cut or thrown out. I use everything.
Όταν το εσωτερικό γέμισμα είναι μέσα στην τσέπη, απλά ράψτε το κλειστό. Βλέπετε πως δεν κόβω τίποτα ούτε πετάω κομμάτια.
​
Here is the pretty gathered end. I wanted the look of a roll pillow.
​Εδώ είναι η όμορφη συσσωρευμένη άκρη. Ήθελα την εμφάνιση ενός μαξιλάρι ρολό.
​
The hounds tooth pillow was also done exactly the same way as the vest. I just buttoned it up first.

Το βυσσινί μαξιλάρι έγινε ακριβώς με τον ίδιο τρόπο όπως το γιλέκο. Απλά το κούμπωσα πρώτα.
​
I don't think this pillow will fit in my
basket for snugglies
, but that's alright! If I can repurpose something old and give it a new life I'm more than happy!
Δεν νομίζω ότι αυτό το μαξιλάρι χωράει στο καλάθι μου για χουζούρικα, αλλά δεν με πειράζει! Εφοσον μπορώ να επαναπροσδιορίσω κάτι παλιό και να του δώσω μια νέα ζωή είμαι ευτυχής!
​
This concludes my project sweater pillows the easy way, because why make it difficult when you don't have to! And with this post I think we are done with winter things. Winter begone!!
Εδώ τελείωσε το έργο μου, μαξιλάρια από πουλόβερ με εύκολο τρόπο, επειδή γιατί να το κανουμε δύσκολο όταν δεν χρειαζετε! Και με αυτό το post νομίζω ότι είμαστε έτοιμοι να τελειώνουμε με το χειμώνα. Χειμώνα εξαφανίσου !!
I also want to take a moment to thank all of you my dear readers for the outpouring of sweet and encouraging comments for my One Year Blogoversary. You give me the encouragement to continue on this adventure called Blogging. Thank you so much!
Θέλω επίσης να ευχαριστήσω όλους εσάς αγαπητοί αναγνώστες μου για όλα τα γλυκά και ενθαρρυντικά σχόλια για το ένα χρόνο επετείου μου.Με ενθαρρύνετε για να συνεχίσω σε αυτή την περιπέτεια που ονομάζεται μπλογκινγκ. Ευχαριστω πάρα πολυ!
​
​
If you like what you see, share it with your friends, or save it on Pinterest. If you really like what you see subscribe to my blog and get my adventures twice a week in your mailbox.

Αν σας αρέσει αυτό που βλέπετε, να το μοιραστείτε με τους φίλους σας, ή να το αποθηκεύσετε στο Pinterest. Επισεις μπορείτε να εγγραφείτε στο blog μου και να λαμβάνετε τις περιπέτειες μου δύο φορές την εβδομάδα στο e-mail σας.
You may also like:
Επίσης θα σας αρέσει: