The Halloween party is just a week away and I've been working feverishly on my wall unit making sure everything is just right. Oh, I know I had mentioned in my video the other day that I would add reds, but in fact I seem to have stuck to neutrals mostly. Let's take a quick tour and see my Halloween Wall Unit Decor.
I am including a small video towards the end of the post showing all of this and explaining it in more detail.
"What is going on here? And who is that woman with the camera?"
Let's start with a full photo view. You can see that the wall unit has been wedged into the end of the room. When it was put together one end of it was placed behind a column. This is actually very practical because we don't want it toppling over when we have earth quakes.
​
Starting at the top I use bottles extensively to add height and variety. The black bottle has a label which I painted with blackboard paint so now I can just switch out the image by erasing and re-writing.
​
Here we have my beloved Mr. and Mrs. Mummy. The image in the black frame is Georgia O'Keefe, looking sort of creepy in black and white. I thought it was fitting to add her to the Halloween decor. No disrespect to Ms. O'Keefe but she does look otherworldly.
​
An odd image I found in an old art gallery catalogue. Next to that a skeleton head and an unusually shaped bottle with black liquid.
​
A vintage bottle, books that no one will ever read, but which make a good base for the walnut eyeballs, and the "evil sister" to give us a fright.
​
A framed piece of art by Ina the Tea Lady that has a sad, creepy quality to it. Yes those are band aids and you can read about it here.
​
I added a bit of red with the unusual bottle and the tealight.
This angel sitting on a crate has a melancholy air that we don't expect and while not exactly Halloween worthy, it is an unusual image.
​
Disclosure:
The items below are affiliate links and link to Amazon.com. If you purchase any of these products through the links, I receive a small commission, that way I can continue to provide you with lovely content. There is no extra charge to you for purchasing through my affiliate links.
​
A framed photographer photographing us! Halloween doesn't have to be spooky, it can also be surreal.

Faux squashes and dried flowers enclosed in a candy jar. It looks like I am going to preserve "a little bit of Autumn." So easy to make and yet so pretty. And it has nothing to do with Halloween… how about dead flowers, is that more ghoulish for you?
​
"Oh drat, will they never stop! They just keep on multiplying instead of leaving me in peace!" said Paranoid Man as he sank deeper into his bowl.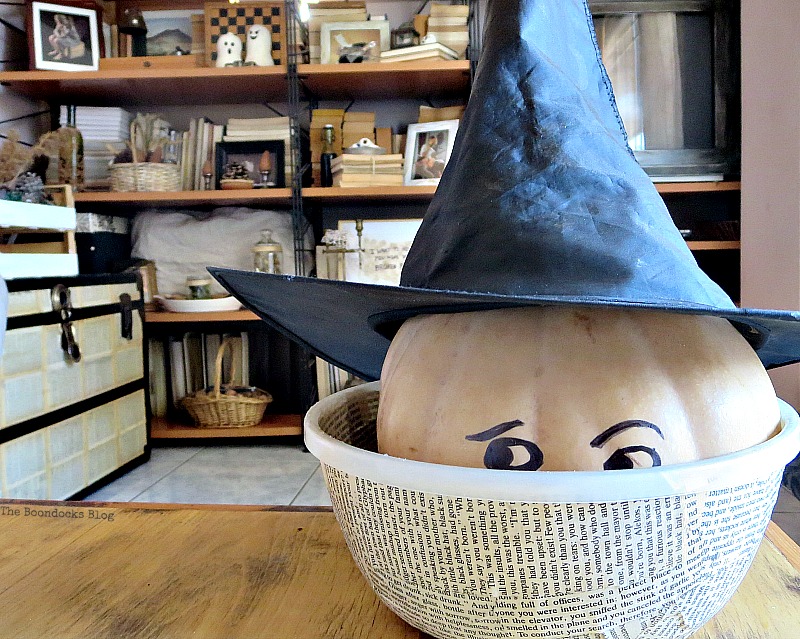 "And now a video too! When will it end?"

​The Halloween Wall Unit Decor is all done. I may not have used a lot of red, but I did repurpose many items that i already had and upcycle others. And I was able to incorporate some natural elements in my decor. I'm a happy blogger.
​As for Paranoid Man, well, that's another story. What can we do to get him out of his bowl?

​To find out what happened to my Paranoid Man you can check out the complete saga here:

If you like what you see, share it with your friends, or save it on Pinterest. If you really like what you see subscribe to my blog and get my adventures twice a week in your mailbox.
Related:
<<
Fun and Easy Halloween Vignette
HOME
Sweet Inspiration Link Party #29 >>
This blog is for entertainment purposes only; my DIY tutorials are not professional advice. Read my full disclaimer here.​
I love it when I get your comments and I will try reply to them or visit you on your blog. ​Please do not add a hyperlink to your comment, otherwise we cannot publish it.