This plastic basket upcycle is a quick and easy home organization idea. Learn how you can update your broken, cheap or old plastic baskets by wrapping them in fabric.
It is my favorite time of the month when I get together with my besties! Yes it is the International Bloggers Club Challenge. For those of you who are here for the first time, this is a monthly challenge that I participate in with my blogger friends who live all over the world. We meet up each month to compare notes and see how we do things in our corner of the world.
This month we're doing crafts with baskets. Now I have done lots of basket upcycles in fact I did one the other day. I simply painted it with chalk paint. Easy Peasy. But this time around I am not doing plain plastic baskets. I am going to show you how to easily upcycle a broken plastic basket.
You see I have these plastic baskets that needed a makeover and I really wanted to use those in the challenge. I hope you don't mind. I like them but they are broken and missing their edges. But they are very practical since you can put stuff in them for storage or to carry around. You can see how in the inner corners there is no edge and the blue basket has both edges missing in the front.
​
Materials Needed To Upcycle a Plastic Basket
Disclosure: This post contains affiliate links for your shopping convenience. If you purchase any of these products through the links, we receive a small commission at no extra charge to you. You can find our full disclosure here.
I needed to find a way to hide the non-existent edges and so I found this fabric which was left over from an old curtain I had. Originally I had wanted to use denim but it proved really hard to work with. Maybe next time I can try it with softer, worn out denim.
How To Upcycle Plastic Baskets
The first step was to make sure that the fabric was large enough so that when I folded it over into the basket it would fit and cover the whole basket.
I folded it over one end and tried to sew the fabric through the holes of the plastic but it was so hard.
After pricking my finger a few times I gave up and used glue instead. In my defense the fabric was really hard to pass a needle through. It was one of those chintz fabrics that has a bit of a glossy finish but it had faded.
Then I flipped up the sides and folded them over like you would when wrapping a gift with paper.
They were pulled inwards and then glued onto the side and bottom of the plastic basket.
I had two different sized pieces of fabric to use for the two plastic baskets and so I ended up wrapping them with the stripes going in different directions. But that's alright, I think they look much more interesting that way.
Can you tell that there is no edge there? If you can't then I have done my job!
This has to be one of the easiest projects I've ever done. And it is a great way to hide the defects of the baskets. Plus with the right fabric these baskets look way better than they did bare.
I am using the baskets to store school things. It's an easy way to be able to grab things and take them with you.
​
They come in handy for storage as well. I'll be putting them on my Hejne shelving unit and placing towels inside.
While I was choosing fabrics for amazon I was reminded of all the pretty patterns and styles out there. Did I ever mention that before I had kids I used to work for a textile company? I worked for the designer of the company. It was so much fun to watch the creative process of how a fabric pattern is developed.
And that is how to upcycle broken plastic baskets with fabric. An easy peasy project. Because really, would you have had the heart to throw these out, while they were still usable?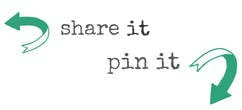 Check Out These Other Storage Ideas