Today is a special day. My very good friend Keri from Repurposing junkie is visiting me. Keri and I started blogging at about the same time and so we became newbie blogger friends, helping and supporting one another. She is an amazingly talented blogger whose specialty is repurposing; that's why I call her "The Queen of Repurposing". Today is going to share another of her many talents with us, with this curbside coffee table makeover. She can take anything and turn it into a treasure. Read along and you will see why.
Painted Coffee Table Makeover Ideas
Note: This project was originally pubished in July 2016.
​Hi, my name is Keri, wife, mother, blogger, repurposer, furniture refinisher, and frame and stencil addict from Repurposing Junkie. I'm so glad that Mary has invited me to share with you all at The Boondocks Blog. Today I'm showing you the details of this beautiful coffee table makeover!
On July 4th, I went for a milk run to the store, and spotted this beauty on the curbside. It was raining that morning and this little table had some water damage. This coffee table had one side with opening doors and the other side had fixed doors. The opening door side is the part that was broken as you can see. I'm guessing that is the reason it was thrown out.​
​I sanded the top completely down to the bare wood with an orbital sander. I also sanded the rest of the piece the best I could with the orbital sander and what I couldn't reach with the sander, I hand sanded. I love that this entire piece is solid wood.
After the entire piece was sanded, I wiped it down, free of dust. I then painted the bottom of the coffee table first, giving it several coats of a satin latex off-white color I mixed.​
To give the painted coffee table base some additional texture and interest, I took some 220 grit sandpaper and distressed the painted.​
I also took the hardware off the fixed doors and spray painted them black. Then I reattached the painted hardware by hand.
If you look closely you can see where my daughters got ahold of the hardware and spun them around and around before I got around to tightening them with a screwdriver. Lesson learned, don't set fun looking things out in the living room and expect toddlers not to play with them. 😉 I'll paint the scuff marks soon.​
This is the side that had the broken doors. I took the broken doors off, and filled in the screw holes where the hardware had been. I think I'll be on the lookout for a basket to go in the vacant space.​
After the bottom part was finished, I moved to the top of the table:
I first stained the top with Minwax Dark Walnut Stain.
When it was dry, I used part of a stencil to make a lovely design around the edge of the table, the same design I used on my Hope Sign.
When the paint was dry, I took some 220 grit sandpaper and carefully went over the stenciled part to distress it a little, and also to erase excess paint from unwanted stencil areas.
I wiped off the dust and stained over the parts I had sanded, wiping off any excess stain.
​I applied several coats of polyurethane, sanding between coats, to seal it.
Here's the finished coffee table. Don't you just love the wood grain showing through and the stenciled accent?!
I'm in love with the stain, stencil, and paint look right now and just knew I had to use it on this coffee table. I've also painted, stenciled and stained on this little table, on the $5 dresser makeover, and our kitchen table too, which I have yet to blog about. This recent coffee table project has inspired me to refinish some of the furniture in my living room again, even if I did just paint them a little while ago.​ Have you seen how Mary transformed her coffee table with paint?
When I picked this coffee table up off the curb, I had every intention of selling it, but, we're keeping it and replacing our old one. Would you keep it or sell it?​
Thanks again to Mary for letting me share this project with you!! It's such a pleasure to guest post on her blog: I'm truly honored!​
If you like this coffee table makeover, please share it. Thanks so much!​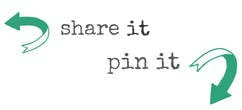 Keri, that gorgeous table which looks nothing like the first picture is definitely a keeper. It reminds me of my laminate table makeover with gel stain. I'm glad to hear that you are going to put it in the living room. Thank you so much for sharing this curbside find of yours and showing us how to turn any curbside find into a treasure. I only wish I lived closer to you so we could go curbside shopping together.
Now all of you have seen just how talented Keri is. Her blog is full of great makeovers and even more amazing repurposes. I want you to hop on over there and check out her great blog, Repurposing Junkie. And to show just how much we appreciate her visit, let's all pin this beautiful coffee table. Have you ever found anything out on the curb and brought it home for a makeover?
​If you like what you see, share it with your friends, or save it on Pinterest. If you really like what you see subscribe to my blog and get my adventures twice a week in your mailbox.
This blog is for entertainment purposes only; my DIY tutorials are not professional advice. Read my full disclaimer here.​
​I love it when I get your comments and I will reply to each one here or on your blog.