Decoupage is a great way to add decor and interest to all sorts of items in your home. If you've ever wondered how to decoupage napkins on plastic, check out these great tips and suggestions.
A few weeks ago my daughter's friend gave me a gift. It was a bag full of plastic bottles that were for tea. She knows what a recycler and repurposer I am and she was sweet enough to collect a bunch of them and bring them over. A girl after my own repurposing heart!
I had them hidden away with a vague idea that I'd do some sort of spring project with them. Little did I know what a mess that would turn out to be.
​Today I am advising you on how to NOT decoupage plastic bottles with napkins.
I had no idea what I would do with those bottles till one day I went to Ikea and spotted these cute napkins. Aha! I thought to myself, why not decoupage that lovely spring pattern onto the bottles?
I removed the plastic covers and washed out the bottles. They looked cute like this too but I wanted to use the napkins.
​I figured this project would take me half an hour tops. After all I had decoupaged so many other items in the past such as a dresser, a suitcase, and a side table. In fact I had even decoupaged a trunk with book pages. Now if that wasn't a tough project I don't know what is.​
Materials Needed to Decoupage Napkins on Plastic
Disclosure: This post contains affiliate links for your shopping convenience. If you purchase any of these products through the links, we receive a small commission at no extra charge to you. You can find our full disclosure here.
How to Decoupage Napkins onto Plastic
First I added the napkin to the bottle but realized after I applied it that it was a three ply napkin. Did it say that on the label? Silly me, I should have known better! This did not look good!
I tried again, this time with only the patterned napkin, but it looked awful. The brown color of the bottle showed through and made the pattern look muddy. Not to mention it was very wrinkled.
Finally I did what I should have done from the beginning. I went to You Tube and looked at how-to videos but I was so overwhelmed I almost gave up. I knew I had to finish those bottles and make my daughter's friend proud since she had gone to the trouble of saving them for me. And I wanted to be good to the environment!
So following the tips on the videos, I painted the bottles using chalk paint. Two coats was more than enough to give me this look. I let them sit overnight to cure.
​Half an hour project, huh?
The next day I cut a strip of napkin and started from the top, adding a little bit of mod podge and carefully applying the one ply napkin. I even had to make cuts where the neck of the bottle swelled out.
But more often than not this was the result!
Did I say this was going to be a half an hour job?
I even attempted to do individual flowers cutting them out and applying them one at a time.
But the final result was less then desirable. Instead I ended up applying individual flowers to the whole surface of the bottle. I would have been better off with the first method, just cutting large pieces and adding them on.
Finally after much anguish I finished with all the bottles.
I added various cords, ribbons and yarn on top as embellishments and called it a day! Although it was more like two days – with the painting and all that gluing.
​
I have to admit the white turned out so much better than the blue. It looks bright and crisp!
Whereas the blue has spots of white napkin, maybe where I had to overlap the paper.
And it also has these epic fails! Now you may be wondering why I'm showing you all these mistakes.
​Because I have a confession to make.
​If you scroll up a bit you can see that I was bragging about my decoupaging abilities. But it turns out that they are practically non-existent.
I was humbled by a few lowly plastic bottles. It's not about the size of the item you are working on, but the finesse that is involved!
And so I am eating my words! I still have much to learn about decoupaging. After I finished this project I even found a site that had lots of helpful hints! And here is a seven step guide. Now why hadn't I seen these before?
It serves me right for being so arrogant! I should have known better after my battle with the Fabulous Ikea Desk Makeover!
Consequently, I bow my head in shame and I've added a few muffins in the photo to take your attention away from all the decoupage mistakes! How am I doing?
You can see here that I am far from perfect. I made more than my share of mistakes with this project. The biggest one being that too much bragging will get me nowhere.
Thank goodness my older daughter had made those muffins to save the day, er, the photo shoot!
And so I present to you a set of decoupaged bottles for spring! But really this is about how not to decoupage plastic bottles with napkins. And having some food around really saves the day!
Have you ever had any epic fails with mod podge or am I the only one?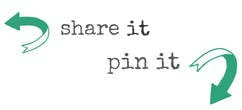 More Decoupage projects:
This blog is for entertainment purposes only; my DIY tutorials are not professional advice. Read my full disclaimer here.